ENOUGH
It is an economic reality that a lack of transparency creates uncertainties, and uncertainties lead people to hedge (and in my case become a dancing Queen of the "
LE FREAK
C'est Chic" a-thon). And that can't be interesting to read. It is time to take the knit in knit blog back. But before I do that (it will be the next post- I am already writing it :P) lets go to the important stuff. This post has more important things to tackle, much more important… Let's tackle Oliver (tickle the boy, tickle him… oh wait not that kind of tackle) So the
DIVINE
Ms. Emma
has an absolutely adorable boy.
His name is Oliver.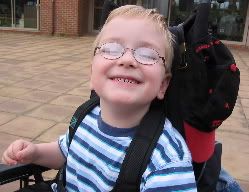 (Hi Emma, nicked your photo, but no hot linking here! :)
Anyone who has blinked twice at this wonderful woman can't help but notice that Emma is one very special person. The amounts of kindness and generosity she extends can astound. I know she has amazed me personally on occasion. So it seeks to reason that Oliver is one very special boy too. And this special boy has some special needs. We all need things right? So Emma has
listed
out the extent of what it will take to help this adorable munchkin become mobile, gain some independance and be well protected. Then she stepped up and asked for help. Ask and yee shall receive. And if there is anyone out there who knows how hard it is to ask for, let alone accept help- c'est
MOI
. I can't let things stand till they are equal… I am only now grasping the "it equals out over time; you don't have to cut Dutch at each and every point" notion. Now I know I don't get
THAT
much traffic and most of you have seen the calls to arms, or pocketbooks as it may be from others. Or the auctions
Kerrie
has created (
here
and
here
) that are unbelievable, as is the auction that
Kim
created (
here
). But I want echo that call and to put my two cents in. First you go to make a donation, then you can take my two pence.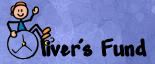 *I'd use
Claudia's
lovely button, but Blogger is being tempermental about making it a link*
I have been whinging on the past month over the dragged out process of securing another contract. And not too long before then I was freaking out about the whole staying in France. Previous to that it was my bloody dissertation. So yeah I think I need neurotic and whiny added somewhere in the title of this blog, right about NOW. To put myself on a bit better karmic standing, and feel a bit more bitchy balanced; next paycheck (Wednesday), contract secured (which I am continually told it should be by then…) or NOT, it is donation time.
I looked up my finances from when I started this contract. I have set money aside (though if I wanted to be stingy and miserable I could have set aside more I guess) and I have itemized out what I have spent my money on. Over the past 5 months I took out my yarn/knitting purchases from my bank statements, not as much as I might have thought but enough to be noticeable. I am not unique in this donation formulation- the
Harlot
, brilliance she is, herself suggested this as a possible donation guide for
Tricoteuses Sans Frontiers
. I decided that the most expensive of those months will be my donation and the average of my months will be another donation to
Medecins Sans Frontiers
(
these
two
articles and my work reminded me that I need to pay some things forward and do so promptly). Next post, one year and counting of a midget running around with pointy sticks in her hands not afraid to use them, and what the year to come is bringing in the door.