I Will Prevail
Ok so it's not as catchy as "I Will Survive" in the Karaoke box, but bear with me... it has been a bit of a rollercoaster weekend; knitting and otherwise, really good and so-so. Most of the weekend was spent on and off tidying up the mess from my furied frenzy. Determined to enjoy the sun I went for a run and once home I opened the window to let the crisp air in. Then I checked my email; turns out I was nominated for a Presidential Management Fellowship (I will leave comments about how I wish to "manage" this President for another day).
AND
the nice people over at
RAOK
opened the ring back up. I am joining in the RAOKing fun. WHEEEEE..... *she says hands up in the air, waiving around like a maniac* I rode higher and higher on the rollercoaster whilst doing a whack dance around the flat. I found a Rowan Pattern (for Daydream- see below) and it was in English
and
French
. Yup I knew all those terms... I could read and knit this! And then the ride down a bit... It confirmed my issue with the Phildar pattern are not knitting terms. It is the style of pattern writing and figuring out what it is exactly that they want me to do... fun, Fun, FUN. Forget deflation I said; I went back to the simple stockinette knitting on the back. There are only so many cranial concussions I can handle in one day and I had 12 more cm to do anyways. Back and forth, back and forth. It was mind numbing- just what I needed. Especially when watching old French "claymation" cartoons of tap dancing hats (
Chapi Chapo
for those who are really interested- seriously it is much saner to watch the
Hair Bear Bunch
on their invisible motorcycle). Really I think they put acid in the water on this side of the pond, I am serious. I almost want to write my dissertation on EU Water Purification Policy now... *Almost*... Really I would post a picture of Pretty Wrappy Top, but she looks just like she did last time only with 8cm more of stockinette. So what else does the fidgety girl who does
NOT
want to work on her research do. She turns to the web and surfs like a
kick-ass one armed banshee
! I can hear the communications now: Houston we have a problem. Umm yeah NASA we couldn't stop her, she made it past the infrared rays to
THIS
yarn store... Oh.Mi.God! GGH at affordable prices. Almost 50% of what sites in the states were quoting- even with the exchange rate! A new line of yarn to learn about. Do you see this
yarn
, or this
yarn
, or this
yarn
. Hell yes I bought yarn (no groceries for this week :) At 4.5 euros a ball each (shipping included) for 6 balls how can I complain. I got one ball out of each yarns posted and 3 other balls that will either be made into something (for me or SP) or go to SP. So no letting that yarn out of the bag. I am really really excited about fondling the new yarn. Hee Hee... I bought fuzzy yarn. I have no self restraint, but at least I am honest about it :) I thinks I mights needs another self-help group for fuzzy-holics. Hi my name is Tink and I have a fuzzy yarn fetish. (No keeping track of all the groups; that is what the Psychaitrist is for) I want all the fuzzy warm yarns I can find. I want Mohair. I want Angora. I want Cashmerino Aran. I want Kid Soft. I want Cashmere. I want them
ALL. BWAHAHAHA
. So yes ummm... I am realizing it has become a bit of an obsession that well has possessed me like no other. See Doctor it all started when I tried on this Wrappy Top at Monsoon. Funny thing with Wrappy Tops in the store they almost never look good on me. But this one I
WANT
. Yes I have fallen in love with an inanimate object and I am not ashamed to admit it to the whole knitting blogdom. Next thing I knew I was fixated; I still am. I photographed it as best I could so that once I learn how to design I can recreate it. It was made out of 80%angora 20%acrylic. Fuzzy warm goodness.
Tink likey!
I bought Cecilia (thinking it would be fuzzier) and the GGH Kid Mohair to see what their fuzzy goodness is like. But next up on the list is going to have to be an Angora..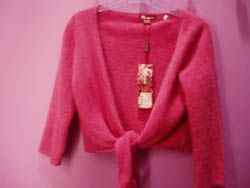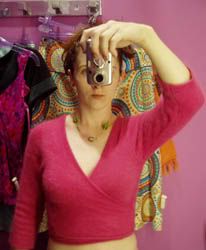 Drool, it is Color and it is Fuzzy!
Lest this post be devoid of REAL knitting photos; I bring you Daydream from
Rowan 's Babies Book
. What you say you know nothing of this project... well that is because it has been "finished" for about 3 months- well waiting for me to finish it. The Academic Director of my Graduate School had a baby on August 22nd. Miss Teyha, and this sweater is for her! I chose one that looked pretty but simple. It had a bit of lace detailing; I wasn't afraid of lace at that point in my knitting life. That lace bit SO beat my ass into papyrus pulp the first (4) time(s) I had a hack at it. But I worked my way through and I really love it. It is of course a Rowan pattern, but I made it with Debbie Bliss Baby Cashmerino. I love that yarn!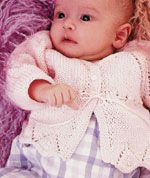 This is not Miss Teyha
Today in my fit of "do something real," I decided to try blocking one of the pieces. You know a test run to see if I knew what I was doing. I soaked it in some water (with an itsy-bitsy bit of fabric softener- I dont know why it seemed right), wringed it out, went and pinned it down, covered it with a bit of the towel and steam ironed over it, then leaving it to dry. If it works like I hope I will set out the other bits and pieces before I go to jail tomorrow... erm I mean the library :)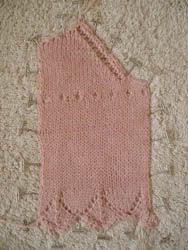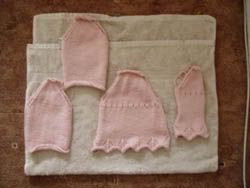 Yes I am Pin Happy- What of it?
Oh and if you haven't already. Go and show
Kate
some Matronly Love. She is no longer in sin and that stole... It really is
GORGEOUS
. And she does too have cute hair! Oh Kate no more taking the ring off ok :)