Gremlins
Ok so first they ran off with my scissors (the ones that weren't WMD possessed by the British Transit Authorities). I could handle that, I use the knife… but this time they went too far. I don't care how cute Gizmo is; when I find him he is going in the frying pan. Yes my friends sing it with me: Le Freak- très chic!
FREAK OUT
! Today I was determined to find my French patterns, I mean they had to be here...
RIGHT
... I have gone over and over and over again through my 200 sq ft/19 sq m flat with an OCD comb. I have walked in circles in the flat talking to myself. I am giving the neighborhood crazy who sings and shouts at people a run for his money. And at the end of all that I still
CANNOT
find the patterns. But the cauchemar gets worse. First it was just that I couldn't find the French translations. Well that would just necessitate another yarn purchase (damn myself for doing groceries today!). But no, no, no I cannot find the English version either. My Missy photo copy- gone. My Rowan Summer Tweed Collection-
POOF
. This is seriously making me crabby. I have a flat that is smaller than most people's master bathrooms. I don't mind tiny space. Makes it harder to keep clean but keeps the inner pack rat in check. And it
SHOULD
make it easier to find lost things. I know that I remember seeing the Summer Tweed on my table a while back. And now the flat is a disaster as after turning it upside down I was not in the mood to put Humpty Dumpty back together again.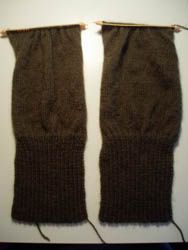 Da Sleeve, Da Sleeve
I also have another confession: I am a political science graduate student/geek... So I stayed up last night- who am I kidding I stayed up till 5 am this morning (9:30AM meeting be damned me and the bags under my eyes and in my hands came along for the ride!). Just so I could watch the debates; the debates mind you that I thought were on at 1 AM (no Tink, try again 3AM). So I watched Little Women as my lead in, then all the CNN Spin, followed by all 90 minutes of those two going at it and the post-commentaries. And what did I do during that time? I left Sleeve Island and I cast on with pointy needles. That pained squeak you heard, twas me! I spent the whole time valium ribbing me 10 cm and did a whole lot of stockinette on the back. Which looks startlingly like a sleeve. I keep saying STRETCH.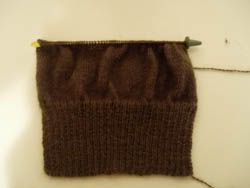 One Productive Debate!
I am running out of pieces to do without shaping needed. Though on the positive side should I get all that ribbing out of the way then I won't have to play with sharp pointy needles till much later. At some point I am going to invest in tiny size bamboo needles I think. But at the end of the day Pretty Wrappy Top is not meant to be a tent on me. I must learn how to read French knitting patterns... Until I command that pattern, in my feisty mood I give you this photo though. It sums up my feeling towards learning the pattern reading at this moment. And it shows my "arm warmer."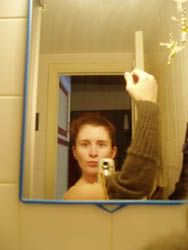 I Call It The "Gesture"- What *wearing halo* I Am Spanish, We Talk With Our Hands!
Also there has been a bit of a change up on what I am sending my Secret Pal. First come, first serve. I have a copy of Phildar Hommes Automne/Hiver 2004/2005. I am not sure how you all get here or anything about some of you (I don't know how to read the stats besides looking at that simple number over there) but I put out the Knitty Goodness. Since I don't expect to knit for a Homme any time soon; I am putting the pattern book up, should there be any takers. There are 19 patterns in it, patterns are however in French. Currently I obviously cannot provide translation assistance. However once I learn how to read the pattern, and I will OH HOW I WILL! I will be willing to provide some assistance with a pattern of choice. So if you are interested leave me a note in the comments (please list your email or your blog so I can contact you) and we can go from there.