Ceci C'est L'Automne!
Want to hear my favorite joke? I knew you did. How many ADD kids does it take to screw in a light bulb? Wanna Ride Bikes?? So yes, I have a new color fascination- it goes well with my green fetish too. Pumpkin. I want to make something orange. Not construction worker all attention to the ta-ta's orange, but a spicy hearty pumpkin color. This is how I know that Autumn is really here. I am walking around blowing clouds of air; I want to be drinking spiced wine and chocolat chaud ancient style (the divinity of getting melted chocolate to mix your steamed milk into to your tastes…); I want a piece of banana nut bread slathered in cream cheese frosting (the real kind not the "plastic no refrigeration or expiration date" kind) I
HAVE
to find someone with an oven to trade something for it's use. How I want cranberry orange muffins (ok, I want those year round but still…) So far Paris is more about it drizzling grey and leaves flipping from green to jaundiced yellow overnight. There isn't a lot of savoring the change here. It is happening no doubt, it's just not the same. I miss the Fall colors. Regardless it does not stop me from going to the café to curl up with my research (better than the flat, even if I should be saving my centimes) and work. It does not stop me from switching my color preferences to my Autumn palate. I want to wear things in a deep plum, in a jeweled tone burgundy, a spiced pumpkin, a toffee colored café, a vivid cranberry and of course an earthy green. But I decided I was going to play. Cause today even though I don't have internet at home. I have PICTURES. First this is my Yummy scarf. Its big its yummy and its warm. I need to learn to remember that its not near as cold as I think it will be when I get out of bed. I dont know what happend to my cheeks in this photo I swear I wasn't attacked by bees or anything.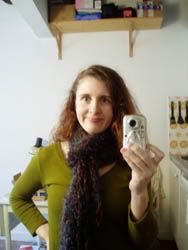 Yummy Scarf! Nuff Said.
Also after looking through my first interweave knits (thank you
Jenanne
) I saw a cute tank top. An all lace tanktop by
Veronik Avery
(forgot that photo, sorry) but I was not to be deterred. I had a ball of Cotton Glace left over from Misty and well since Pretty Wrappy Top was on Halt. I haven't decided if Tutti Frutti should be a two or three ball scarf (photos in another post), and ummm yeah I had nothing else in the works I decided to try me some lace. I would like to make it known here and now to all lace... I soooo beat the vine lace pattern's ass into a hole-y pulp. You see those holes I meant for every single one of em to be there and they make a pattern.
HA take that!
I knit up all the yarn I had left. I love that little V edging and damn if I don't want to make it into a scarf or something now... I even went on to rip out some of the Mohair I had test knit up and try the lace out in the mohair. (What ever am I going to make with only one ball of it anyways?)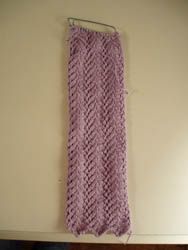 Holes Cause I wanted them THERE
Now for the quicklife update as most other knitting is on hold: I went to the French Foreign Ministry breakfast. Even after having to scream out my window at three am, and two metro lignes interrompu- I got there on time. Boo-YA! But not so much breakfast as the French don't really "DO" breakfast. Nothing fancy, but there was an "attempt" at banana nut bread that I ate with my orange juice. And the buildings they all look like palaces its great! It looks like they like me and my stuttery French, as they asked if I would be able to start next week. Erm so I am thinking I have the stagaire even if I should be working on the thesis more…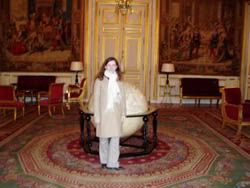 See that Globe I WANT it
On that whole thesis. I am pulling an elegant ostrich move. Slowly but surely… I go to my café (Café Psycho- no really that is its name) and manage to plagiarize *erm* I mean write little bits of this last chapter. They have a rocking dog there. She loves me I give her bits of my Financier for sitting down :)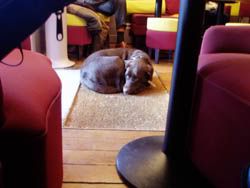 My Cafe Friend- Tchika
Randomness?? An Italian friend of mine is moving to Paris for a few months so that will me nice, I lurve Paolo. He is nice, he is cute and he is a fun half Italian half American kind of academic guy. Plus he makes me laugh and smile, and I like people like that. I have mailed my SP3 gift, diggity yeah me! And the post cards will go in the mail tomorrow. It really did do me good to check something off the list. Attempting also to check of French Consulate... Noos.f*****r... well as you may guess I have not been able to bring myself to actually go and deal with them again yet. My fragile soul can't handle that negitivity and irritation right now, and I need time to think up colorful adjectives to use. I may just tell them to completely shove it as a friend of mine I think has wrangled me a full time paid job with an International Organization. So yeah ummm I'd move back to Italy and be working in what I research... yeah for Rebecca. So ummm that is all good but I am going to have to make some decisions here soon, and not so fun ones. If you haven't noticed I am a great decision maker when not under pressure or impulse and overwhelmed by choice.
ARGH
So I haven't a clue what will happen in the next two months but the continue to promise to be a crazy and wild deal. But for you TV fans who want to know about the scary French "fashion" man from Queer Guy alla Française. This is the guy who with a straight face said tying a cardigan around your shoulders is passé. You should twist it up like a towel (before you smack someone in the ass with it) and then choke yourself with it. This is why I am not fashionable. I took a picture of my screen with his hair. Really this was RIGHT before they started swinging his arms about singing
IN THE NAVY...
Yeah and that is a wife beater he's got on. Seriously guys I wish I could make this shit up but I am NOT that creative.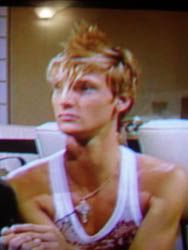 I was going to try a mouse over but couldnt figure it out- Sorry to scare you all.
And closing it up... just for Wendy we have L'Eponge Bob. I recently found out the denizen herself has me on her
links
page and well when I saw
this
I knew L'eponge had to come to you.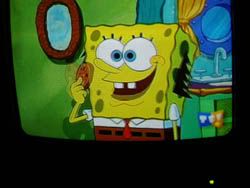 I take pictures of my TV and Many other insane things when bored